Om oss
Babolats Historia
Grundat i Lyon, Frankrike, år 1875 av Pierre Babolat.
Världens äldsta bolag specialiserat inom racketsport
Babolat grundades av Pierre Babolat år 1875 och har sedan dess ägnat sin själ till racketsport. Från att från början endast tillverka senor till rack har Babolat idag ett komplett sortiment med både rack, kläder, skor och tillbehör. Babolat används idag av flera av världens bästa spelare såsom Rafael Nadal, Dominic Thiem, Sofia Kenin, Felix Auger-Aliassime, Karolina Pliskova, Juan Lebrón och Victoria Iglesias.
Idag finns Babolat i över 100 länder, i över 20.000 butiker och hos över 20.000 klubbar.
Babolat announces Play&Connect racquet,
on may 24th 2012 at Roland-Garros with Rafael Nadal, Jo-Wilfried Tsonga, Na Li and Kim Clijsters.
Launch of the Xfeel range
Babolat launches a new range of badminton racquets for high-level players.
Andy Roddick signs a contract with Babolat and plays with Team All Court shoes
At the same time, Babolat launched its shoes in Japan and the USA.
Launch of new "aero" racquet concept
adopted by Rafael Nadal
Launch of the first shoe with our partner Michelin
On the initiative of Eric Babolat, our CEO, Babolat offers a complete range of technical equipment for the tennis player : racquets, strings, shoes, balls, apparel, grips, accessories, and bags.
Babolat launches Padel range..
European launch of our tennis ball range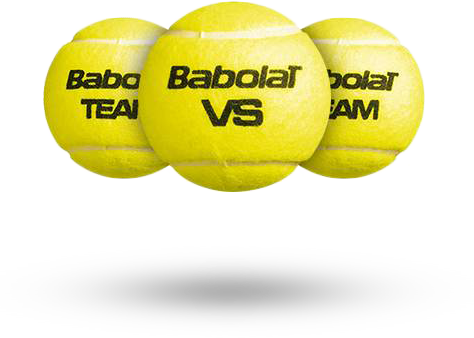 Launch of the Sensor stringing machine range
This new generation of stringing machines provides precision through its high-powered electronic intelligence.
The Woofer is launched
With the Woofer, Babolat designs the first dynamic system able to make the frame and strings interactive when hitting.
The first Grand Slam victory for Babolat racquets
Carlos Moya wins the French Open and becomes the World Number One a few months later.
Launch of the Badminton range
In parallel with the tennis racquet frames, Babolat launched its very first Badminton racquets in 1995.
Launch of the first Babolat tennis racquet frame range
1994 marks a new turning point in the history Babolat. After more than a century exclusively devoted to strings and accessories, Pierre Babolat, the Chairman at the time, gambled on launching a range of racquets. Babolat goes on to become a complete equipment brand for players. Carlos Moya was the first to win with our racquets.
The Racquet Diagnostic Center (RDC) is set up
In under two minutes, RDC allows a complete and very reliable diagnosis of the racquet and strings. The RDC is still a must-have tool for stringers!
Pete Sampras: a legend
Pete Sampras is the only player in the century to have won Wimbledon seven times and holds an all time record total of 14 Grand Slam victories. All with his Babolat VS strings!
Launch of synthetic Babolat strings made in France: Multifilament strings
Multifilament strings soon became the top of the range in the field of synthetic strings... as a complement to gut.
Yannick Noah: pure passion
Yannick Noah emerged victorious at the end of an unforgettable French Open final. He knew how to share his passion and he was loyal to VS throughout his career.
The Elastocross is launched
Created to reposition the strings after each exchange and increase their working life. Elastocross would become the faithful partner of player concentration and became a touchstone in the industry. For some people, a cult item!
Björn borg is awarded a golden VS by Paul Babolat
with his revolutionary twho-handed backhand, Björn Borg was like a rock on the court. An exemplary champion, a gigantic figure in the history of tennis… An ambassador for VS !
The "Competition" departement is created.
The "Competition" departement has a team of experts stringers who accompany Babolat Team players year-round to all the tournaments in the world. It's precision work ! Once a player detected a 3-gram difference between two racquets.
Creation of our first electric stringing machine : The "Exclusive"
Introduction of the "Double Line" logo at the base of the racquet head
Arthur Ashe and VS
Arthur Ashe was the first African-American player to win Wimbledon even though, in 1968, he was still an amateur! He later became the first winner of the US Open. All this with Babolat VS strings!
Babol is launched
An innovation designed to protect natural gut strings and prolong their life. The process was so successful that soon people didn't "coat strings with Babol", they "babolized" their strings!
Creation of "Elascord", the first Babolat synthetic string
An international distribution network is set up
All over the world, players want Babolat strings. To satisfy the demand, Paul Babolat organized our international distribution network.
The high point of French tennis in VS with Suzanne Lenglen and the Musketeers
With her inimitable style and almost theatrical posturing, Suzanne Lenglen was the very first female tennis star.*The Musketeers (Jean Borotra, Jacques Brugnon, Henri Cochet and René Lacoste) jointly accumulated 20 Grand Slam titles and 6 Davis Cups.
Creation of the famous VS natural gut string
In 1925 VS quality was introduced, on the initiative of Albert Babolat. Originally developed with the "Musketeers", VS has equipped the racquet heads of the greatest champions ever since. The world benchmark for strings was born. To this day, the performance of VS natural gut string remains unrivalled.
Babolat invents tennis racquet strings
In 1874, Walter Clopton Wingfield created tennis. One year after the official invention of tennis, Pierre Babolat created the first tennis strings, made of natural gut.
Produkten har blivit tillagd i varukorgen